A Trip Down Memory Lane Essay About Myself
I remember kneeling down outside the class looking along the veranda instead of concentrating on the class for the sound of the footsteps.. footsteps of my principal walking for inspection, wondering what would happen I tell her that I lost my Maths homework.
It's a lame excuse and I'm sure we have used a number of versions in our school life.. Memories that bring back a smile on my face.. Memories that i want to re-live.. Memories, good and bad that i will never forget.. I remember writing movie stories in the middle of a history answer and laughing at the 9 out of 10 for a stupid answer. I remember using chalk piece and duster on my white canvas shoes trying to make them 'look' white after a game of cricket early in the morning..
I'm pretty sure that by this time, you have traveled back the memory lane re-living moments you've spent in school. Many of the friends I have now, believe that college was more fun than school.. The thought about wearing a color dress to college.. bunking college.. passing comments.. cheating in exams.. was fun they say. But to me school carries more beautiful memories than college and here's why..
I remember the first time I was punished and beaten in front of the whole class for mistakes i made in my Hindi classwork.. I remember the day when i first received my fail marks in class 8, the day I cried with my mom for not having learned algebra seriously. Algebra was tough for me, but i eventually cracked it.. I love algebra and the way 'minus' into 'minus' turns to 'plus' 😛
I have been to three schools.. The first in Adoni , Andhra Pradesh which was an english medium with Telugu as a compulsory subject. I could feel like a king then because no teacher would dare scold me as my Grand father was the trustee in the school. I remember my Grand Father scolding my class teacher when i fell sick feeling scared of the teacher's scolding. I remember going to school on a bicycle with Satya anna who worked at my father's shop. He'd ride, me, my sister, my cousin sister and my cousin brother to school on one bicycle. Imagine hanging on, as you show off sitting at the edge of the seat.
The second, Secretariat Colony school, Chennai. My first school after we moved to Chennai some 15 years back. My first word in Tamil came courtesy Secretariat colony school where i finished my 3rd, 4th and 5th standard. I remember rolling under the high rise gate to get to home for lunch. There's one memory that I'd never forget, a memory that I'd share with my grand children too (Of course when they are there, I'm still single). I remember pissing in front of the whole class, in the pants! It was an awkward feeling but since i was only 9 then I just ignored the comments my friends passed.
The third and my favorite..Sindhi Model Sr. Sec School, Chennai. To what I am today, a software engineer.. working..! through recession..!! is all thanks to this school.. I remember my first day at school.. Sitting alone, head down.. Shy.. praying to be swapped sections so that i could use some company of a friend i know.. And yet, I made good friends..
My first was Jinendra, who was a Gujarati and the language became a reason for us turning friends.. Then there were the twins in Dhawal and Bhavin who were good friends of Jinendra.. I was happy with the way the first day ended, I had some friends and I was in a new school..
Our Principal, Mrs. Arundathi Mohan.. Now retired.. was one tough lady.. like an army general.. She had this 1m wooden scale we were all scared off.. I have been on it's other end with knuckles down a number of times.. We were all scared of her.. Her big 'Aaaayyyyy' from the first floor would send shivers down my spine sitting on the third floor.. We had to get a permission slip signed, personally, to go back when you wanted to go home.. of course there had to be a letter signed by the parents to support it.. but the investigation that she'd do always my ears turn red out of fear talking to her..
It was easy to get it signed from our class teacher, but it took a lot of explaining to get the principal convinced. I had grown feeling scared of her and that's probably the reason I'm a disciplined (if I'm allowed to call myself that). It was in class XI and XII when we really knew that our principal was like our mother.. She has been the biggest motivator in my life.. Oh.. I miss her!
I remember kneeling down outside the class through most of my English periods for not having known the difference between a noun and pronoun. I still don't know.. who cares, as long as you can put words together to make sentences.. sentences together to make paragraph.. and paragraph's together to make it a blog..! My English teacher, Shanta miss was one of the sweetest and probably the leanest english teacher i have ever seen.
She was tough but sometimes soft with us.. Specially when our principal was  on rounds. She made sure that I was kneeling inside the class.. facing the wall at times.. There were also days when i would voluntarily kneel outside guessing the outcome of not having completed homework.
We'd run  to the principal's office to see the notice board and figure if there was a substitution for an absent teacher.. and if there was one, we would all brain wash our monitor(we used to call him leader) to seek permission for playing from our principal.. If the principal agreed, the substitute teacher wouldn't.
I remember duplicating the teacher's signature for not having to redraw an organism in my biology notebook.Brings back to memory, My class 7, 8, 9 biology teacher, Mrs. Jayanthi Pandian. Her signature a simple 'JP' with a underline. I was caught! Not the duplicate signature.. It was perfect, even better than what she would sign.. Thanks to the twins who sometimes signed our report cards.. They were always good at it.
If they had put a price tag on it, they would have been the success story a lot of us would have bee reading on TIME magazine. What got me caught was the extra long tick that i made on the picture.. It looked like a big cross mark on the notebook that drew attention from her.. luckily she ended the matter with me re-drawing the whole picture in front of her..in the biology lab..after school.. kneeling down!
I remember one of my Maths teacher. Mr. TC Babu, who used to beat us almost everyday. There was this guy, whose name i will never forget.. Adarsh.. who was like sir's pet.. Poor guy received punishment daily.. Adarsh has been out of contact after he left the school the same year sir joined. Oh god, we were scared of him! But the memories will never fade.. I never got an opportunity to train under him, but I'm sure like every other teacher, the punishments he gave were to make sure we improve.
I was never good in Hindi. Our teacher, Mrs. Shirin Bharti would dictate notes.. and like always I made mistakes.. not one, not two.. but hundreds of them. She'd find every single one of them and made sure they were visible as she filled the notebook with 100's of red marks.. The book was in such a bad shape that i finally had to tell her that i lost it and that i would xerox somebody's notebook for good. Another punishment was waiting to happen.. I had to rewrite the whole text again.. a copy of one of the brightest Hindi student in our class. I wonder if it was my looks ( 😛 ) or my shy nature, a number of girls pitched in to complete the book for me..
I remember being seated surrounded by 4 girls.. east, west, north, south.. 4 beautiful girls.. the toppers of the class.. With my head down, I always concentrated on the class. I was seated in the first row exactly in front of the door so that the principal could catch a glimpse of what i was doing.. But that was never to be the case, most of the time i would be kneeling outside the class or seated on the floor rewriting notes.
They happily helped, not only in completing it, but also helping me get them signed from the teacher who recognized their hand writings. Luckily this time, the teacher signed it and i had a copy of my Hindi notebook that helped me pass class 7. I wonder why i was seated amongst the girls, a position that i would glad to be in currently 😛
But thankfully, they helped me complete my notes.. and I'm glad that one of them continues being a good friend.. I didn't really know er well until one special class in class XI when we actually spoke our hearts out in the absence of our teacher.
By class 8 i was named the 'good boy' of the class.. Obedient and shy.. So i was seated next to a very dull boy to help him learn.. Not to anybody's surprise, he was also surrounded by girls as punishment.. Me sitting next to him meant that even i was surrounded by girls. A very shy boy that i was, me and the boy would fight for the corner seat to the right of which was the wall. I remember changing places daily. I remember who the girl was next to me, but i'll keep it to closed doors.
I did help the guy pass class 8 and i didn't have to make another story of having lost the Hindi notebook because this time i had the charlies angel's(4 of them in my case) helping me do it. Class 9 was all studies and I personally prefer not to recalling the 'study' part of it:P I did pass class 9 with a lot of effort and made sure i reserve a seat in class X.
I remember riding a bi-cycle without brakes in peak traffic to get to the school on time. I know it could have turned dangerous, but that was the only stunt i have ever done in my life.
Warning: All the stunts discussed here are performed by trained professionals 😛 and should not be attempted at home or any place.
I was glad i could do that, because that helped me feel macho amongst the guys. I had this silver colored cycle, which turned pale yellow after long time which made all possible sounds when i ride it. I never cared for it, and therefore continued riding it no matter what.. It also made sure people know that i was coming..
Then there were days when we were directing traffic along our school roads as a part of I-don't-remember-what-it-was-called team.. Wearing a meroon cap and whistling away passerby's.. It was so much fun! But then there was time when you had to bake in the sun for having forgotten to put a batch on the cap or having turned up late..
Talking about whistles and punishments, i remember being a part of the NCC (national cadet corps).. We would do the drills early in the morning, as early as 6 and then continue attending the class were shorts ans shirts full with sweat.. eww.. but then everyone knows the feeling of not bathing once in a fortnight.. 😛 The wait for the Dosa after the drills was what motivated me to continue learning discipline courtesy NCC.
Then there was class X, and more memories.. Since this post has been long enough to be called as a post, I'd want to end it here and leave the remaining memories to Part II.. I'm using this post to relive my good old school days.. and hope I have been able to bring back some memories in your life too.. Part II coming up…
Like the Blog post? Subscribe to the RSS Feed by Email. Rate this Blog? Click here!. Kunal Janu
Categories: Blogging, FeelingTags: boys, Cricket, dwon, experience, freinds, girls, haapy, happiness, joy, lane, life, love, memory, naughty, principal, relive, school, sindhi model, teachers, thoughts, walking
My days as a humanities double-major at the University often do not include more than reading novels and research articles and writing essays about the various readings. Every once in a while, however, I see stuff on social media that catches my interest. This happened in the case of Adit Ganguly's blog post, "A Review of the Mandatory Freshman Writing Course."
Adit, a freshman, took what is colloquially known as "Freshman Writing" as I and the rest of the University's undergraduate population have done. Upon reading his blog post, I was reminded of my own experiences taking this course, and realized that the more freshman year becomes part of the past, the more the class has taught me, whether in terms of academic writing or deciding on a major.
Unlike Adit, who enjoyed WRT 105 to the utmost degree, I didn't. I was a little late to the game, and many of the sections that did interest me were already at full capacity when I signed up. So I registered for a section that looked at least a little more interesting than the others. Thus my first impression of WRT 105 wasn't all that great.
The semester started and went by quickly (as all semesters do—but especially that first one). I got along well with the other fifteen or so people in the class, and considering that my grades in the class were better than test scores in some of my other classes (read: math), I was doing fine.
Eventually, the final paper rolled around and I was terrified. I was supposed to write eight pages! I felt like I hadn't learned anything. Sure, we had looked at some basic stuff in class, but it had certainly not prepared me for an eight- to ten-page essay. I had no idea what exactly the final product would or should look like, but I closed my eyes, took a deep breath, and wrote the paper anyway.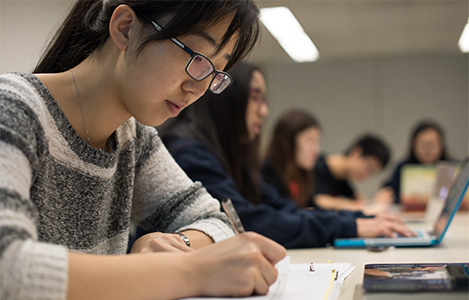 In hindsight, it turns out that I did not have to worry as much as I did. I handed in my essay on time and got a good grade in return. But I can't say that I learned anything concrete, either.
However, what did come from that first semester WRT 105 experience was first and foremost a check mark on the first part of the mandatory writing requirement, and a grade that suggested that there was still hope for me, despite the fact that my grades from some other classes (once again, read: math) might have suggested otherwise.
But more importantly, what came from that class was a foundation (although a somewhat shaky one) for essay writing at the college level. Spring semester, and especially in the fall of my sophomore year, my courses and the assigned work became more demanding, requiring me to write and read more. Reading articles in particular has really helped me to understand what WRT 105 had intended to introduce to me: a roadmap to explain my thoughts in a (hopefully) coherent and logical way.
As it turns out, all it takes is a little practice. Well, mostly, anyway. Some tears on that laptop keyboard don't hurt, either.
These things come to mind when I (a junior during winter break) take a walk down memory lane and remind myself of that once oh-so-dreaded WRT 105 course first semester. What I did realize very quickly is that the people in that same section were pretty cool. So cool, in fact, that I still hang out with them today. Were it not for that class, I might never have come in contact with people I now consider some of my best friends.
There are other stories, of course, some far better than my own, to be told about WRT 105. One of my freshman residents last year told me, "Writing [WRT 105] is a nice break from all that math I'm doing." Later that year, that student's biomedical engineering major was exchanged for one in religion.
Not all WRT 105 experiences are as dramatic as these. The course might just give you enough confidence your freshman year, so that when you're faced with three 15- to 20-page essays your junior year, you keep your cool and don't despair. No more than usual, anyway.